By Sarah Berman
Medill Reports
At 7 a.m on a Sunday in January, Steve Hernan and two other "ice monsters" are getting ready to descend into 33-degree Lake Michigan. 
The holdup: They're still using an ax to free ice from a neon green ladder. Hernan, 54, is kneeling in the snow, leaning over the water as he chisels away at the bottom rung. Breathless and sweating, he turns to the two men and asks to be subbed out.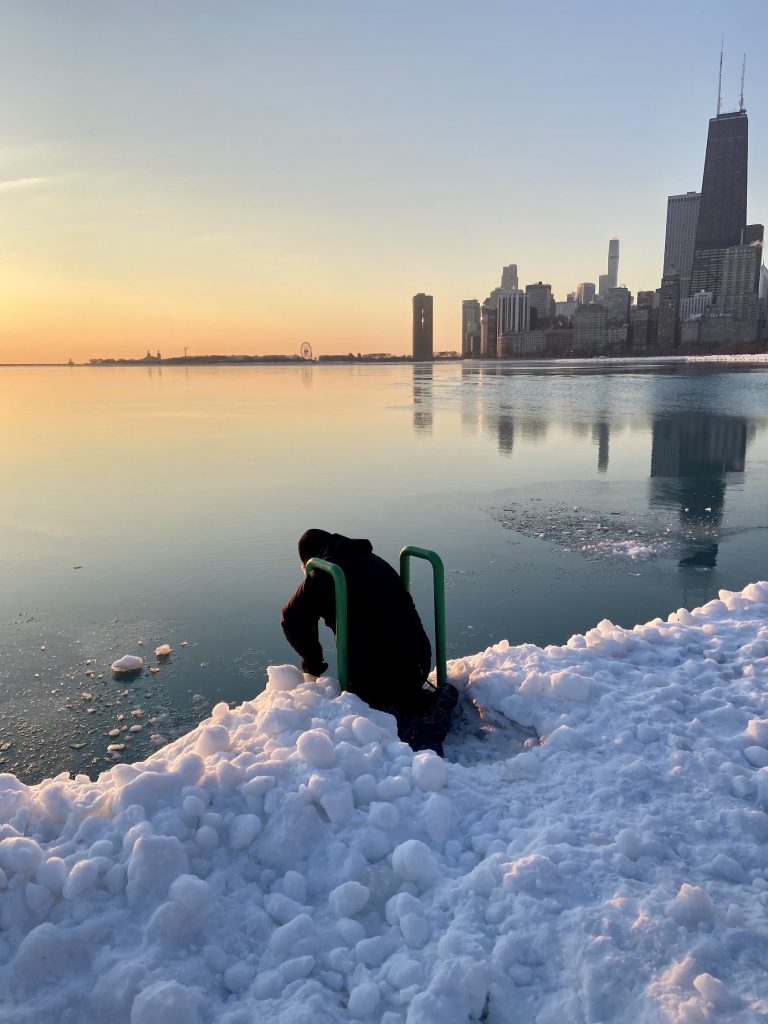 It takes 25 minutes to de-ice their launching pad, the only ladder on the shoreline that isn't buried in snow and ice. 
"I declare the pool is open," Hernan says. Then he puts on a water-repelling, neoprene wetsuit, gloves, boots, dive hood and swim cap.
For the past 15 years, open-water swimming has been a Sunday ritual for Hernan and his fellow "lake monsters," the term for people who swim with Open Water Chicago. Those who brave the frigid feat and swim in the winter are nicknamed "ice monsters."
Lake Michigan continuously cools throughout winter, and with March averaging an annual low of 32.9 degrees, it's the chilliest month for open-water swimming. Yet a growing number of people are taking the plunge. 
As a child, Hernan was a wrestler, not a swimmer. His only memory of a couple of swim lessons happened while he was growing up in Lincoln, Ill. "I basically learned how to not drown and just flail around," he said. 
In 2007, when he was 36, Hernan signed up for the Chicago Triathlon on a whim. Most triathletes' least favorite part of the race is the swimming, but after two triathlons, Hernan realized he liked it the most and ditched the bicycle and sneakers. 
After the annual Chicago Triathlon in August, most people stop open-water swimming for the season. With no one to train with in September and October, Hernan put a note on Craigslist in 2007 looking for someone interested in out-of-season open-water swimming. To his surprise, he created a group of a few people, which generated an endless email chain. Hernan soon discovered WordPress as a solution for his cluttered inbox and created the site Open Water Chicago.
Eventually, it evolved from a place to coordinate training times to a space for posting articles about open-water swimming, pictures of the group each weekend, Lake Michigan's daily temperature – and even announcing his son's birth.
"There was never any strategy," Hernan said. Through the years, the group has accumulated 520 "lake monsters." When someone completes an inaugural workout with the group, the person is assigned a "lake monster number," which Hernan, a businessman at heart, logs in an Excel spreadsheet. 
Hernan never planned to venture into cold-water swimming. In 2009, the "lake monsters" kept daring one another to swim another month past October, when the group would typically hibernate. "Next thing you know, we're swimming in Lake Michigan at Thanksgiving, and it's freaking cold," Hernan said. 
After November 2009, the daredevils decided to invest in cold-water swimming gear.  "There was nothing planful about this," Hernan said. "It was an ego dare thing."
Only 26 people have earned the "ice monster" title. On that Sunday in January, Ray Fearing is looking to be "Ice Monster No. 27." Fearing, a regular during the warmer months, is marking his winter debut. 
He and Hernan opt for a wetsuit, designed to keep people warm without anything underneath. Steve Papendick wears a drysuit, which looks like a waterproof hazmat suit. He also puts on flippers, but no goggles or hood because he keeps his head above water and plans on sticking close to the ladder. "I've had actual brain freeze too many times," Papendick says. "I'm too old for that now."
Hernan opens his thermos, but doesn't take a sip, instead offering the steaming liquid to the group. "Would you like any hot water in your gloves?" he asks. Similar to how skiers use air-activated hand and foot warmers in their mittens and boots, Hernan puts hot water in his dry-sealed boots and gloves to keep his extremities toasty. Air-activated hand and foot warmers won't work once submerged in water. Pouring warm water into the water-sealed, neoprene boots and gloves keeps the warm water against the skin as a way to combat the cold.  
"You guys are crazy," says a female jogger who's trotting down the lakefront trail. 
To avoid shocking the system, Hernan's pre-swim routine includes a warm shower. He dials the temperature down to cold for as long as he can manage, which helps him acclimate to the freezing lake. "It's like boxing," he said. "By the time you get to the ring, you want to be breaking a sweat. Except here, it's the opposite." 
One by one, the trio climbs down the ladder. "Wow. We got so lucky with the conditions today," Hernan says as he begins treading water. 
Hernan already knows his route. He's sticking near the shore and following the bend south toward Oak Street Beach and 875 N. Michigan Ave., known to most as the John Hancock Center, which is a half-mile round-trip. As an experienced open-water swimmer, and someone who exercises regularly, he takes off alone.
Then, Papendick kicks back and forth by the ladder, and Fearing ventures off a bit toward the Ferris wheel, but soon turns around to chill with Papendick. The pair wade in the water discussing golf, an upcoming vacation and the water temperature that's "not so bad." 
"Did you order an ice pizza?" Papendick jokingly asks Fearing as he picks up a pizza-sized slab of ice from Lake Michigan. You can tell he's a New Yorker because the "crust" is quite thin. 
After 25 minutes, Hernan arrives back at ladder 1A. "All is right with the world right now," Hernan says to the ice monsters.
He climbs the ladder. "This is the part that sucks," he says. Ice forms on his gloves, and his face is redder than someone finishing a marathon. 
During the afterdrop, Hernan's heart rate slows down and his body temperature plummets 10 minutes after exiting the water. 
Immediately, Hernan throws on a towel-like Snuggie and changes into the clothes he wore pre-swim. As he peels off his neoprene layers, he places each wet item on a dry towel, to avoid an item immediately freezing to the ground and ripping. 
"It's just a shiver today," he says. 
Hernan recalled his first experience swimming in cold-water as "anticlimactic." 
Open-water swimming in January is easier than November and December because his body is more acclimated to the cold. "We might as well do whatever we can and stop resisting winter," he said.
"For a lot of us, it's about finding like-minded people, having a community, forgetting about work and other BS." 
Once the group is dressed and dry, Hernan unzips his backpack and removes an oval sticker, which looks like the "26.2" bumper decal that most marathoners own. But this one reads "32.1," the minimum water temperature for the ice monsters. Hernan hands the token to Fearing and officially deems him "Ice Monster 27." 
Fearing calls the swim "more enjoyable" than he anticipated. "If people don't say you're crazy, then you're not living life to its full potential," he says. 
The trio chats onshore for another 10 minutes about the latest news headlines and what their Sunday plans entail.
The conversation begins to slow down. "Well, it's time to get back to my responsibilities," Hernan says. 
Sarah Berman is a graduate journalism student in the magazine specialization at Medill. You can follow her on Twitter at @sarahberm