By Almagul Serikbayeva
Medill Reports
One year has passed since the beginning of the war, and some people are already forgetting about it, Ukrainian native Anya Lomachenko said on Feb. 24, the anniversary of Russia's invasion of Ukraine. She joined thousands of Chicagoans who aren't forgetting at a rally in Ukrainian Village to show support for a country fighting an ongoing Russian invasion.
"Some of my friends are like, 'Oh, is it still going on?'" she said. "Yes, it's still pretty bad, and a lot of people are dying." 
Lomachenko was among the organizers of Ukrainian rallies taking place all over the United States. Shouting over the traditional Ukrainian music, she coordinated volunteers holding banners with numbers. 
"Each poster symbolizes one of the days of the war," she said. "So if you will look, each of them has a specific day and what happened during that day."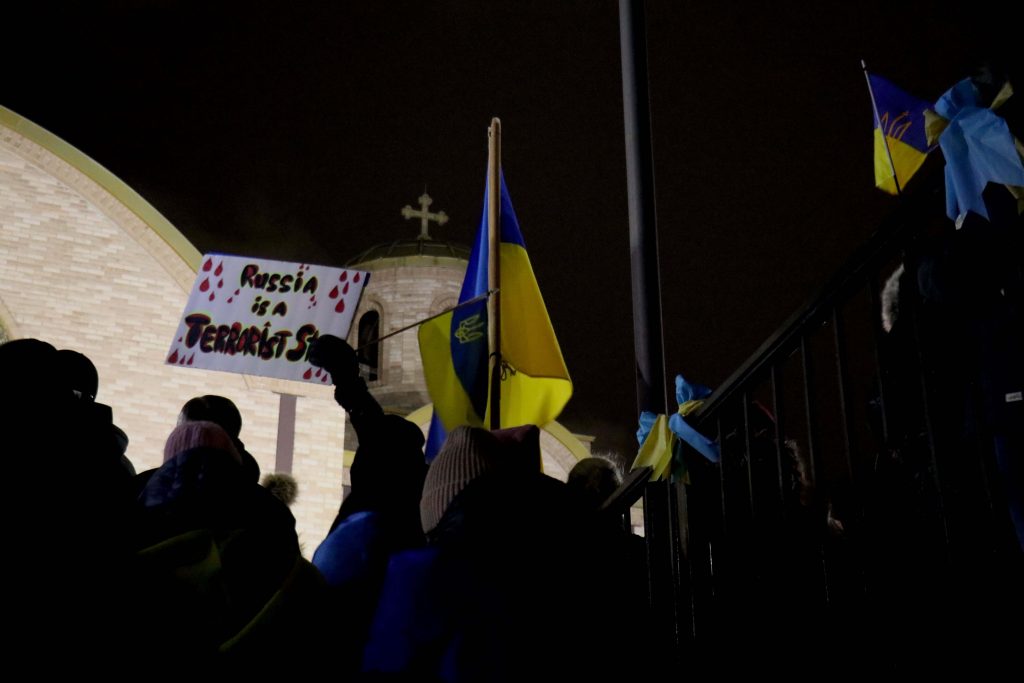 She quickly moved through the crowd, pointing at photos of people killed and buildings laid to rubble. Some of the photos document the infamous Bucha massacre, when, according to the U.N. High Commissioner for Human Rights, more than 100 Ukrainian civilians were murdered and left to rot on the streets by the Russian Armed Forces.
Lomachenko complained that, compared with a year ago, the news media doesn't cover the Ukrainian war anymore. Mark Tomashek, a bachelor's student at the University of Illinois at Chicago, said he believes that, as a Ukrainian, even though media coverage of the war continues, it will never be enough.
"Since the year passed, it's not as interesting for people already," he said, "but I get why it's like that — it's just business." 
The conflict in Ukraine still holds a high level of interest for nearly 64% of adults in 28 countries, according to recent research published by global market researcher Ipsos. In the year since the invasion, global public opinion hasn't changed much, and most of the West remains strongly pro-Ukraine, the survey summary underlines.  
For those at the rally, commitment and interest radiated at an unconditional 100%. Between clusters of blue and yellow were flashes of posters calling for action, sometimes aggressively. One of those illustrated an ethnic Ukrainian soldier, a Cossack. In his hands, he holds a beheaded Russian President Vladimir Putin. 
"That's how it's gonna end up," Chicagoan Roman Pylypczak said, explaining the poster was drawn by his friend.
As Ukraine started to take its land back last year, the general feeling is getting better, that's why it's important to stay positive and keep going, he said. 
"The world has a very short attention span," Pylypczak said. "You have to keep it posting (information about the war) online, talking about it with colleagues, people who aren't familiar with it."
Sonya Dymova, 20, was among those who participated in the rally in Ukrainian Village. Originally from Russia, Dymova is currently a freshman at the Medill School of Journalism. 
"I wake up, open my phone, see notifications, burst out crying," she said, recalling the morning of Feb. 24, 2022. "Then I texted my best friend who's from Mariupol." 
She remembers thinking about how she was going to tell her best friend that her country was doing this to his country, and especially to his town. Ukraine's southeast city Mariupol has been under Russian occupation since Dec. 2022. 
"I do feel guilty a lot," Dymova said about her relationships with Ukrainians. "It took me several months to gain their trust."
However, Dymova is now accepted as part of the Ukrainian community, she said. They know her better, she said, but in the beginning, they were very cautious as both sides were hurt during the war. 
According to the latest UN Human Rights Office data, the number of deaths of civilians, or non-armed individuals, in Ukraine is at around 8,100.
Recently, The New York Times reported that almost 200,000 Russian soldiers were injured or died in Ukraine, more than the total number of Russian causalities suffered in all wars involving Russia since World War II. Russian independent media Meduza, BBC Russian and volunteers have established the names of 13,000 Russian soldiers who were killed in Ukraine as of Feb. 3 alone. 
Almagul Serikbayeva is a social justice graduate student at Medill. You can follow her on Instagram at @imstillalma.